I'm adding a new section to my Etsy shop ~ Check out Go Pink! coming soon). October is Breast Cancer Awareness Month and in honor of this a half of all sales from Go Pink! will be donated to the Susan G. Komen for the Cure Organization!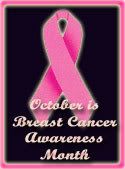 I'll also be adding a Halloween Go Green! section with fabric goodie bags! They're in the works as well - there's always something going on! :)
Today's rainy weather means an indoor movie day for myself and the little man - perfect for working on crafts together!